Eradicate Patriarchy: Paralleling the gender equality and empowerment in art
We are still in a patriarchal society. This is a fact. And if in some countries, where the rights of women and minorities are clearly undermined and patriarchy is more obvious, in other geographical areas such as in Europe, North America and Canada, it might be a little bit trickier to spot. But be aware that patriarchy is there, and tries to fight to keep its places of privileged. This is why even small steps are very welcome to start to walk into a direction of equality and respect.
For instance the project "Reframing Narratives: Women in Portraiture", a project about women portrait paintings, is one of these good step that we should be happy they are being implemented nowadays.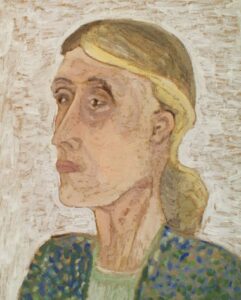 Portrait of Virginia Woolf by Ray Strachey, dated late 1920s.
Photograph- National Portrait Gallery London:PA
Some unforeseen facts about women in the art business
Women are still today dramatically underrepresented and undervalued in term of visibility, money, prestige in gallery and museums around the world.
According to a data analysis of 18 major museums in the US they found out that their collection are 87% male and 85% white. And when we talk about the art business we don't refer only to artist, but also to people that work in leadership position: for instance, three of the most visited museums in the world, the British Museums (founded in 1753), the Louvre (founded in 1793) and the Metropolitan Museum of Art (1876) never had a female person as director.
Women are the majority of art students, but the minority that actually work in the art business: we have been earning 70% of the bachelors in fine arts and between 65 to 75% of masters, but we are only46% the people who works in art.
All these number give an idea about how has been the trend for so too long: as happens also in other fields of work and professions, women are neglected, the can have more difficulties that man to find a job in the field they have been looking forward and that they studied about and so on.
Today this is not acceptable anymore, and although to change things takes time, something is already happening.
The Art Project: How it can create enlightenment.
Increasing portraits of ladies' number within the existing collection of art
"Reframing Narratives: Women in Portraiture" is a three-year project done in a grand collaboration between the National Portrait Art Gallery of London and the Chanel Culture Fund, a venture that aims to offer a new start to culture and in particular to contemporary artists that decreased their work due to the pandemic. The project's objective is to give a new visibility to women within the artistic field: to increase the number of women portraits including women both as a subject of art and as artist.
This project will increase the proportion of women artists and sitters on display at the Gallery in London when it will opens again in 2023, and it will also includes a complete transformation of the entire Collection and a significant refurbishment of the building.
This is one of the initiative that have been undertaking to start minimize the gap between male and women in the art business, to give the right visibility, importance accessibility to the work of women as well, like it has been done to the man's work for too long: this is a tiny step in the right direction, a direction we should start to undertake for us but especially the future generations.
Notes & Tips:
To read more about Reframing Narratives: Women in Portraiture